Ecocap Movement
What is Ecocap Movement?
By collecting plastic bottle caps, it is possible to make...
A single polio vaccine (800 caps)

3kg of carbon dioxide reduction (1 kg of caps)

Stationary products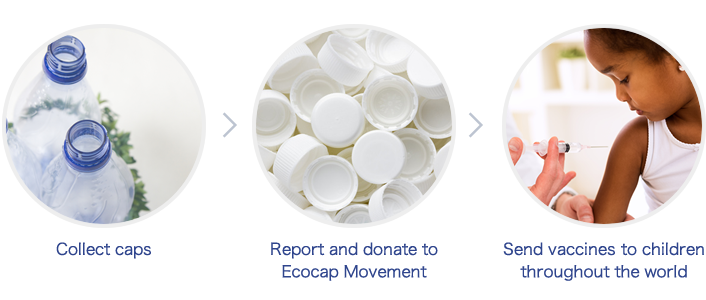 Who can join Ecocap Movement?
Anyone can join Ecocap Movement!
Seiu Japan Co., Ltd. collects caps from anyone, including individuals, schools, companies, and local government agencies.
How do I participate in Ecocap Movement?
Carry-ins or deliveries are welcome.
Please put caps in a plastic bag or cardboard box.
Carry in or mail to
Chiba
Seiu Japan Co., Ltd.
523 Sankaku-cho, Hanamigawa-ku, Chiba-shi, Chiba 262-0011
TEL:(+81)43-298-5430
Aichi
Seiu Japan Co., Ltd.
67-5 Hama-cho, Gamagori-shi, Aichi 443-0036
TEL:(+81)544-66-6166
Hyogo
Seiu Japan Co., Ltd.
888-1 Sumada Sanda-shi, Hyogo 669-1352
TEL:(+81)79-568-5432
■How to mail
Please send via prepaid freight (If package is sent by cash-on-delivery, it will be returned to the sender.)
Please avoid enclosing letters.
Please write down your

fax number

,

address

, and name on the delivery slip.
(After you send us your caps, Ecocap Movement will fax you a cap receipt.)
■How to carry-in
Please bring caps to one of the addresses above.
Please fill in your fax number,

address

, and name.
※If you bring your business card, you do not need to write down your contact information.
Feel free to contact us for any questions.
Seiu Japan Co., Ltd., Ecocap contact: Takarabe
TEL:(+81)42-298-5430 FAX:(+81)43-298-5431